COVID-19 Updates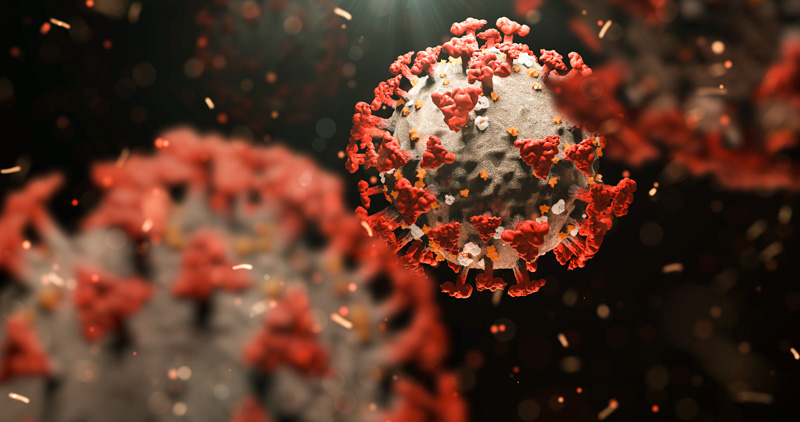 This month's featured articles report on research to reduce COVID-19 symptoms with vitamins and minerals, neutralize the SARS-CoV-2 virus with an engineered nanobody, and detect infection in humans using sniffer dogs. New developments for authorized vaccines are also presented.
Is Vitamin C really useful against COVID-19?
A collaboration among researchers in Iran, and Canada conducted a trial to assess the efficacy of adding high-dose intravenous vitamin C to the regimens for patients with severe COVID-19 disease. The randomized and controlled trial examined differences in body temperature, peripheral capillary oxygen saturation, and length of hospitalization among two groups of 30 patients. No significant benefit was detected from the vitamin C treatment.
Another trial assessing the efficacy of vitamin C and zinc gluconate to reduce the duration or symptoms of COVID-19 disease reached the same conclusion. According to the article published in JAMA Network Open, 214 hospitalized patients in Florida and Ohio were given both, either one, or a placebo. The results, also reported in Cardiology Advisor, showed that none of the treatments improved COVID-19 symptoms.
The Leaders: Approved & Licensed
Pfizer's mRNA Vaccine – A single dose of BNT162b2, developed by Pfizer Inc. and Biopharmaceutical New Technologies (BioNTech), effectively protects previously infected people from COVID-19 disease. According to the article in, a recent study published in Nature Medicine demonstrated that the antibody responses to a single vaccine dose in previously infected individuals were comparable to the levels achieved by two doses given to people without prior infection. Based on these findings, the authors recommend amending dosing strategy to accelerate wider immunity with limited supply.
Another study, published in the New England Journal of Medicine, demonstrates that the BNT162b2 vaccine neutralizes the new, highly contagious P.1 variant spreading across Brazil and the Americas. Scientists from the University of Texas and partner companies tested blood drawn from Pfizer vaccine recipients and found that it effectively neutralized an engineered version of the virus containing the same mutations as the P.1 variant.
Oxford Vaccine – Vaxzevria (the Oxford-AstraZeneca vaccine) was authorised for use in the UK on December 30, subject to continuing safety and effectiveness monitoring. In early April, the EU reported a possible link between the vaccine and possible blood clotting in adults, advising that unusual blood clots with low blood platelets be listed as a possible, but very rare, vaccine side effect.
As a result, at least 17 countries countries including France, Spain, Italy, Germany, and the Netherlands, have restricted the vaccine to a specific age group. Denmark is the only country to have chosen to suspend the use of the vaccine altogether. A similar effect was observed with the Johnson & Johnson vaccine, causing the US to temporarily suspend its use. National regulatory agencies around the world continue to monitor the safety of all authorised vaccines and provide the public with the latest information.
AeroNabs to Neutralize SARS-CoV-2
A team of graduate students and scientists from the University of California San Francisco have engineered a tiny antibody capable of neutralizing SARS-CoV-2.. The team succeeded in immobilizing the virus that causes COVID-19 through aerosol delivery of a synthetic version of 'nanobodies' found in llamas and camels. This story is particularly interesting because of the methods employed by the researchers which involved combing through exhaustive libraries of genes that code for of SARS-COV-2 neutralizing proteins and testing them in cultures of yeast cells.
Dogs Detect COVID-19 in Humans
Six Labrador Retrievers were trained in a six-month project in Thailand to detect COVID-19 in infected patients by sniffing samples of sweat contained in canned vessels. Study results showed that the hounds were nearly 95% accurate during training, leading to future plans to put the dogs in busy transport hubs to sniff out cases of COVID-19. Countries including Chile, Finland, and India have launched similar projects.
For further reading, explore the Coronavirus Article Collection from Bentham Science, comprising over 12,000 articles, books, and book chapters. Bentham Science's new journal, Coronaviruses  has also published its first issue.